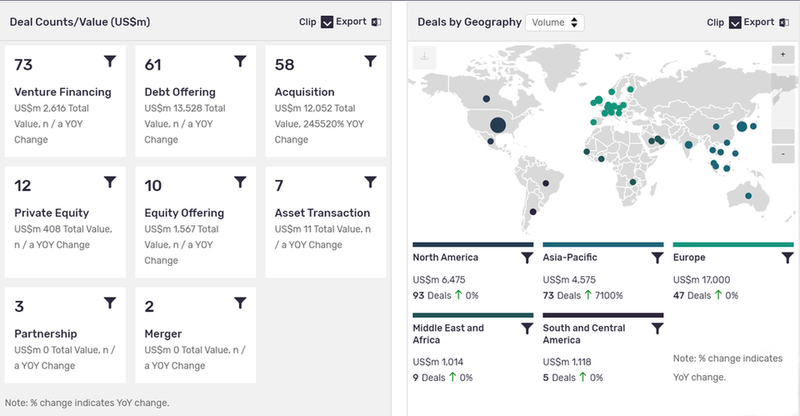 The banking industry is firmly in 2021 now and the pace of deals completed has been consistent between 10 January 2021 and 16 January 2021.
There were 26 deals in the week, compared to 31 deals in the week previous.
Mattioli Woods had a busy week as it acquired both Callender Street Nominees and the Exempt Property Unit Trust (EPUT) administration business of BDO Northern Ireland.
Canaccord Genuity Ltd and N+1 Singer acted as financial advisors to Mattioli Woods on both deals.
Murray Smith, founder director of Mattioli Woods, said: "We are delighted to expand our existing operation and client proposition in Northern Ireland by working with BDO NI to bring their highly experienced EPUT team together with our team in Belfast, to create a highly complementary addition to our specialist pension consultancy and administration services. We intend to continue growing our wealth management business in Northern Ireland to deliver the best possible client service."
In June 2020, UK-based Mattioli Woods unveiled that it was looking for acquisitions despite the market turmoil triggered by the COVID-19 crisis and political uncertainties.
The wealth manager also revealed that its year ended 31 May 2020 had been successful, with the financial result and adjusted EBITDA margin "significantly ahead of budget".
The firm attributed the performance to one-off reduction in bonuses and other cost cuts linked to COVID-19.
In its annual general meeting, Mattioli Woods chairman Joanne Lake said: "In addition, adoption of the new accounting standard IFRS 16 decreased other administrative expenses and increased depreciation and interest on lease liabilities."
Mercer Global Advisers also had a busy week with two deals in its net. The firm snapped up Rowland Carmichael Advisors and McGee Wealth Management. Both deals were for undisclosed fees and will help the firm expand across Arizona and Southwest markets and Oregon and Pacific Northwest markets respectively.
Other deals included Van Lanschot Kempen gaining a 100% stake in Hof Hoorneman Bankiers and HUB International completing its acquisition of Alpha Pension Group.
Of the 26 deals in the week, four were in the Asia Pacific region, six were in Europe, one was in the Middle East and Africa, and a whopping 15 were in North America. There were zero deals in Central and South America in the timeframe for financial services.
Despite less deals than in the previous week, the numbers remain steady. Firms are going for multiple deals in the same week, which suggests fervour for consolidation and expansion.